Summer is just around the corner! With the bright sun and warm air, there's no better time to host a party in your very own backyard. It may seem like a huge ordeal to put together a barbecue for your friends, but if you follow these tips, you'll find it's a breeze!
1. Plan. This, of course, is the most important part of hosting a party. When is the best time to throw the party? Have you checked the weather forecast? How many people will you be inviting? You'll need to make sure you have enough tables and chairs for everyone.
2. Invite your guests. Whether mailing cards or sending out e-vites via Facebook, you need to let your friends know you're having a party. Be sure to go through your guest list carefully so you don't accidentally leave any of your friends out. You should do these about two weeks before the party.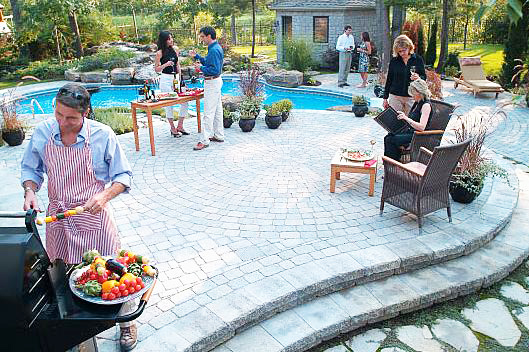 3. Create a menu. In order to make sure your food for the party doesn't spoil, you should buy it a day or two beforehand. Barbecues typically have food such as hot dogs, hamburgers, and chicken. You may also want chips and potato salad. For drinks you'll probably want to stick to soda and beer. Make sure you have enough food for everyone, and don't forget the condiments, either!
4. Decorate. What theme are you hoping to have for your party? For a late night affair, hang lanterns from trees or string up colorful lights. For a daytime party with a country twist, you can place daisies or sunflowers (perfect for summer) in tin buckets on tables covered with checkered tablecloths.
5. Prepare a playlist. Opt for music that's light and fun! Throw together a playlist of songs that you feel your guests will enjoy at the party.
6. Enjoy your party! Now that you're finished planning, it's time to have some fun! If you are going to be using your hot tub, make sure you remind your guests to bring a swimsuit. Otherwise, the Pros suggest to keep your hot tub covers on so there aren't any mishaps, such as food or guests falling in.
Happy Tubbing!