Hot tub covers are a necessity for your outdoor hot tub. The cover insulates your spa, keeps the water hot and protects the tub from debris. It's a protective necessity that makes hot tub ownership and use more enjoyable.
While your hot tub cover is sturdy, it can be damaged. The vinyl could tear, the cover could become waterlogged, the foam interior could snap or the hinge could break.
Any of these damages affect your cover's performance. It won't keep the water hot. It may harbor dangerous bacteria. It wastes chemicals. You can still use a broken cover, but it's not doing its job.
When your hot tub cover breaks, we at the Pros recommend you immediately purchase a new cover. It saves you money and keeps the hot tub's water warm.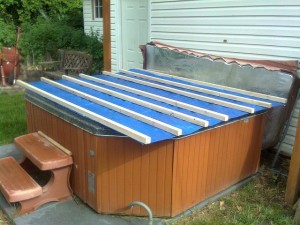 You may need a temporary cover, though, to keep the water clean. Several alternative covers protect the water, but remember that they are only meant for temporary use.
Plywood
A single piece of plywood may prevent debris from entering your hot tub, but it won't insulate the water and keep it warm. It also may be too heavy for the tub's soft fiberglass. If you choose plywood, weigh down the ends with cinder blocks so it doesn't fall off, and check the hot tub frequently to ensure it isn't breaking.
Plastic Tarp
Your hot tub water won't stay warm under a plastic tarp cover. It will stay clean, though, if you secure the tarp.
Old Table Top
The extra kitchen table that's taking up room in your garage can be used as a temporary hot tub cover if it's not too heavy. Like the plywood and tarp, you'll have to secure it so it doesn't blow away or slide off.
While one of these alternative covers reduces debris in your hot tub water, they allow the heat to escape into the environment. They waste energy and money, and your hot tub doesn't feel comfortable when you use it.
Replace the alternate cover with an insulated hot tub cover as soon as possible. It pays for itself quickly, keeps your hot tub operating efficiently and gets you back into your relaxing hot tub.
Happy Tubbing!
Ethel Elliott