Tammy from Boston writes,

I see the standard configuration for all the hot tub covers I am shopping has tie down straps placed one on each side. To me, this does not seem like the optimal location. Why are they placed like this "standard" and can I specify where I would like mine positioned when I order my new cover?
Hello Tammy and Happy Holidays!
The straps on hot tub covers are there for two reasons. The first and most important function is safety. We all know swimming pools are a drowning risk, but we typically just do not think of hot tubs in the same way. To save you from this oversight and liability risk, the cover manufactures almost always have their covers rated by the Underwriters Laboratories, Inc. – the UL label we see on so many products. Many home owner associations also try to save you from this oversight by requiring proof from the home owner that they have secured their pools and hot tubs.
An example of a UL label from a hot tub cover is shown here.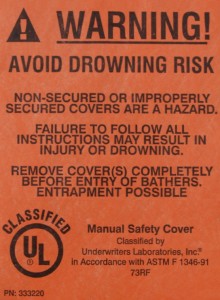 This safety concern also explains why the standard strap location is one strap per side. It makes the cover a better safety device than having the tie down straps located in any other arrangement. Having defined the standard location for the straps also makes it easier for the cover manufacturers to achieve the UL certification.
It also turns out to be the best configuration in regards to the insulating value for the cover. Properly positioned and adjusted tie down straps can help the cover to seal to the acrylic lip of the hot tub and reduce the heat loss.
Many stores let the buyer specify where they would like the tie down straps located. Keep in mind that should you have them moved, you have just removed the liability of the drowning risk from the manufacturer and taken it upon yourself!
Happy Tubbing!
Ethel Elliott