Although most of us associate suds with good times, that is not necessarily the case in a hot tub. Although jets may create the look of bubbles while they are on, there shouldn't be any lingering buildup after they are turned off. If there is, it could be one of a number of reasons.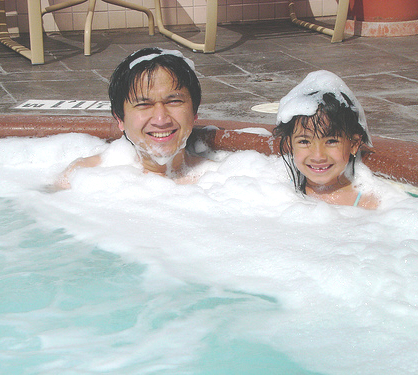 Shampoo Residue or Hair Gel:
Hair products applied after a shower, or even shampoos and conditioners that stick around after they are rinsed out, can have detrimental effects on a hot tub, clogging it up and dirtying water. Try not to dunk your head in the hot tub unless you know your hair is clean and product free; water will stay much nicer that way.
Lotions and Oils:
Skin moisturizers also dirty water and run the risk of clogging up hot tubs or getting on hot tub covers and damaging them. Avoid applying anything right before you get in the tub, even if you do find the water drying. If so, there are water softeners you can use instead of trying to protect your skin with products. If you like, you can keep an array of moisturizers near the tub to rub on skin directly after exiting, but make sure everyone knows they are not for use during a session.
Detergent:
Lingering laundry soap on bathing suits can also add suds to your water, so avoid this by using a mild, natural laundry detergent when washing bathing suits. Better yet, simply rinse them out and hang them up as often as possible. Outside showers are also a great way to rinse suits before climbing in the tub.
Although it can seem awkward, try to politely ask your guests before they come over to minimize the products they are wearing when they climb into your hut tub. Lotions are fine if applied in the morning or well beforehand, but ask them not to rub anything on themselves directly beforehand or between soaks. Hair products can be kept out of the water by providing elastic hair ties, and guests will most likely appreciate not getting their hair wet anyway. It's a small price to pay for keeping your hot tub clean.
Happy Tubbing!