One aspect of hot tub ownership that is a little frustrating at times is the knowledge that you have to continually maintain the chemical balances and even the machinery that makes a hot tub such a joy to own. Not only are there costs for the chemicals necessary to keep the water clean and safe but changing filters and having repairs to motors and jets can become expensive. While these expenses are expected when we decide to purchase a hot tub, but there are ways to mitigate these expenses. The easiest way to maintain your tub or spa is to have hot tub covers and/or spa covers.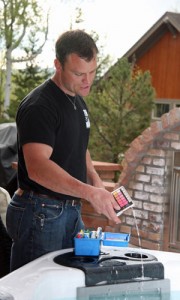 Hot tub and swim spa covers provide several different protections for your hot tub. First, and most importantly, they keep out debris such as dirt, leaves, rain, snow and other contaminants which affects the chemical balance of the water as well as getting into the filtering system and ruining the filters. If the debris is fine enough, it can pass through (or bypass) the filters which means the debris can get into the motor and jet system, causing damage.
Another way hot tub and spa covers protect your investment is by reducing the amount of evaporation your hot tub will experience. The professionals have found the less evaporation you have to deal with, the fewer chemicals you'll use over the life of your hot tub. That's because you don't have to replace the water that has evaporated, requiring you to re-balance the chemical composition of your water to keep it safe and clear. Even a small amount of evaporation can unbalance the chemical make-up of your hot tub water, forcing you to add expensive chemicals to counter it.
Granted, there is some expense involved when purchasing a hot tub or spa cover, but that cost is quickly offset by the savings you'll experience in fewer repairs, filter replacements and chemical purchases. In today's economy, finding any way to save money while still maintaining some of the creature comforts such as a hot tub is a definite win-win situation.
Happy Tubbing
Ethel Elliott