Pam from Colorado Springs writes,

Hi Hot Tub Cover Pros. Can you help explain the difference between soft and regular hot tub covers? I see the soft covers are around $100 less. Are they a good value?
Hi Pam,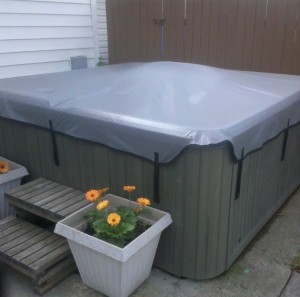 Yes, the soft covers are around $100 less than the standard, hard foam core covers. Much of this price difference is due to the freight charges of shipping standard covers, which are typically around $100.
Soft covers do have their place and work very well for certain situations. Soft covers are typically a type of super tarp, used to keep debris out of your hot tub and spa. Soft covers are supported in the center with an inflatable air bladder or air pillow, that creates a dome in the center so the rain water runs off. The bladder can be filled to the appropriate height to achieve this effect.
The air bladder does depend on the hot tub having water in it. If you plan to drain your hot tub completely, than a soft cover just will not work at all, and it will catch rain water and sag into the tub.
Soft covers are made in standard sizes and are typically NOT custom cut to fit your hot tub. Due to this, soft covers tend to ship out within a day or two of ordering, via UPS of FedEx. Many soft covers are not returnable, so make sure to get the right size for your tub.
Soft covers provide very little in the way of insulation value or what is known as the R-value. This is where the standard foam core covers reign supreme.
Soft covers come with backpack style tie down straps and should not be confused with spa cover caps, which are more like a shower cap for a hot tub and are held in place by an elastic band.
Happy Tubbing
Ethel Elliott