Hot Tub Cover Pros,

We live in North Carolina and it does snow here and it gets on top of our cover. We are not sure if we need to order the 1 pound foam or the 2 pound foam for our new cover? What is the difference and do we really need the 2 pound foam?

Russell and Kay Stouffer, Chapel Hill, NC
Hi Russell and Kay,
The Pros actually get this question quite a bit. When ordering a hot tub cover the foam pound or foam density relates directly to the strength of the cover. You don't state whether or not previous covers have broken, and that is an important part of your answer. If you have been ordering 1.0 pound foam with no problems, then continue doing so. If they have been breaking then clearly you would benefit from the extra expense to get the stronger foam.
You can also ask yourself a few questions to help make your determination:
Is there any chance someone would sit or walk on the cover, even children?
Will I have a heavy snow load where the strength of the cover would be compromised or the foam could crack?
Do I have a large pet that may want to climb up on top of the cover, especially in the colder months to keep warm?
If you have answered yes to any of these questions the Pros would recommend a cover with 2 pound foam. If you get some snow and you are able to remove it before it becomes heavy melting snow, then you may be able to get by ordering the 1 pound foam density or the 1.5 pound foam density.  The difference between the foam density is the static load limit of the cover:
1# foam has a static load limit of 190 lbs.
1.5# foam has a static load limit of 270 lbs.
2# foam has a load limit of 370 lbs.
Let me be a geek for just a moment to explain these densities. The spa cover manufacturers buy their foam in four foot by eight foot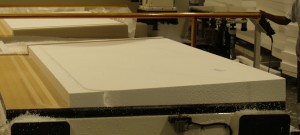 blocks. This picture shows a block of pre-tapered foam being cut for a cover. These blocks are made by the foam manufacturers in molds. To create the higher density foam blocks, more raw material "beads" are added into the mold before the steam injection blows the beads up to completely fill the mold. The 2.0# density foam block has DOUBLE the raw material in EXACTLY THE SAME SIZE as a 1.0# density foam block. This is why the 2.0# is stronger.
Just be aware that most warranties do not cover the foam cracking. Hopefully this information helps to explain foam density so you can order just what you need.
Happy Tubbing!
Ethel Elliott