Facials are some of the most expensive spa treatments out there, rivaling even massage in their prices. Needless to say, most people probably don't have the opportunity to get one very often, if ever. Luckily, a facial is usually nothing more than opening your pores with hot water or steam and applying a rejuvenating mask, which is something you can do at home. Check out our tips for an affordable at-home facial.
Take care of the basics before you get started. Put on music, grab a drink and get your towel ready. Make sure you have a block of time to devote to yourself without distraction. Move hot tub covers out of the way and stack them safely against a wall where they cannot fall. Then, gather your supplies for a self-pampering spa session.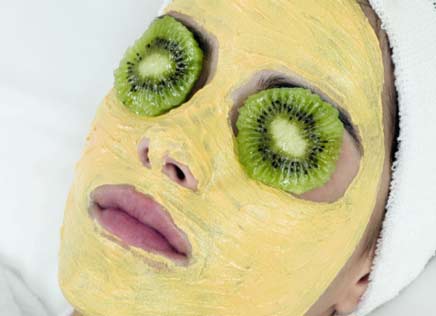 First remove makeup, if you are wearing any, and wash your face with cold water and, if necessary, a very mild soap. Then step into the tub and soak for a while, until you feel relaxed and your face feels loose and moist. Then apply one of these masks recommended by Woman's Day:
Papaya
To brighten and tone skin, apply the skin of a papaya that has had the seeds and pulp scooped out of it. Leave a little of the pulp on the inside of the skin so you can be sure to avoid puncturing it, then rub it across face, neck and hands. Focus on lines and crow's feet as well as thin skin. Leave the resulting juice on your skin for 15 to 20 minutes to dry while outside the tub, then rinse it off with water and climb back in.
Tea
Green or chamomile tea is a remarkable toner, and helps to lift the skin around eyes and reduce puffiness. Brew two teabags in hot water, then lift them out, squeeze them until they are moist instead of wet, and apply over the eyes once they've cooled a bit. Allow to sit for 15 minutes while in the hot tub, then remove.
Lemon
Lemon has wonderful rejuvenating properties, and makes a great mask when combined with greek yogurt. Soak in the tub for long enough to relax and steam your face, maybe 15 minutes. Mix 2 T of yogurt with 1 T of lemon and apply to your entire face and neck, allowing it to dry outside of the tub for 20 to 30 minutes. Then rinse off and climb back in!
Happy Tubbing!